MORE 9-10 fts AVAILABLE NOW!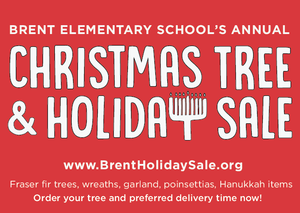 This year's sale features:
Beautiful Fraser Fir trees from 3 - 10 foot tall
Hanukkah items  
Online Presale of trees and greenery
On lot sale at Brent Elementary Thursday Nov. 30th - Sun. Dec. 3rd (On lot sale will also have Poinsettias, Winterberry and more.)
Delivery service including Capitol Hill and Navy Yard
Optional In Home Setup
For best selection purchase your tree and delivery online. Supply is limited. You can come pick out your pre-purchased tree at the sale, or our volunteers are happy to pick out and deliver a beautiful tree to you. You can also purchase In-Home Setup if desired.
Online Sale Products:
The ON LOT sale is at Brent Elementary, 301 North Carolina Ave. SE (entrance on D St. SE) on the following days/times:
Thursday, Nov. 30th, 4pm - 7pm
Friday, Dec. 1st, 4pm - 7pm
Saturday, Dec. 2nd, 9am - 5pm
Sunday, Dec. 3rd, 9am - 5pm
For more information about tree delivery, please click here.
Thank you for supporting Brent Elementary School. We wish you a joyous holiday season!
About Brent PTA: We donate all proceeds to the Brent Elementary PTA for financing various aspects of the school, including class field trips, teaching partners, and educational programs. The mission of the PTA is to foster connections between parents, enable parents to be of service to the school and build a community of parents, staff and administration committed to ensuring that Brent Elementary is a world high achieving educational environment for addressing the learning challenges of all students. Your support will help us achieve our mission.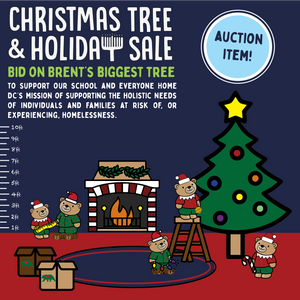 Bid for Biggest Brent Tree
Nervous about snagging one of the highly coveted (and limited) large trees at this year's Sale?
Bid now to secure your very own 9-10 foot Fraser Fir! (The #1 most popular type of Christmas tree in the United States)
Our trees are grown on an award winning farm in North Carolina and delivered soon after being cut.
BID NOW
News
Capitol Hill Public Elementary School Welcomes the Community to Its 13th Holiday Tree Sale Brent Elementary Sale Being Held from Nov. 30th - Dec.3rd Washington, D.C. November 6, 2023 - The Brent...